Buy
ABViewer
Standard
Professional
Enterprise

48

USD
Buy

66

USD


Buy

134

USD
Buy

(minimum quantity of 3 items)

94

USD
Buy

134

USD
Buy

269

USD
Buy
2D Viewing and conversion*
Tiled print
3D Viewing and conversion**
Editing
Redline
DWG/DXF to G-code
PDF to DWG
Batch conversion
Batch print
File comparison
Command line
* PDF to DWG conversion is available only in ABViewer Enterprise.
** 3D models can be converted to STL, STEP, IGES, BREP, OBJ, AutoCAD™ DWG/DXF and supported 2D formats.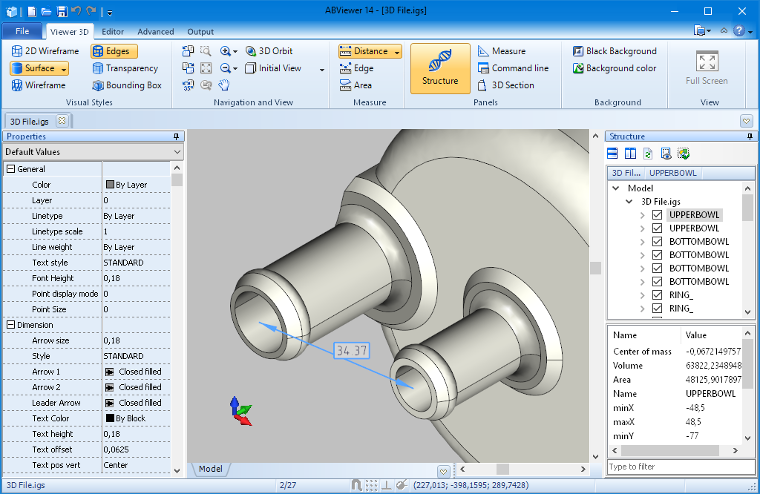 ABViewer Licenses
Both user and floating licenses are perpetual. That means you pay once and can use your version as long as you like.
User licenses can be used by a single person - the license owner – and requires entering registration info on each PC with a copy of ABViewer installed. The number of purchased licenses depends on the number of users who will work with the software.
Floating licenses allow using ABViewer on several PCs that are connected to a TCP/IP network. The licenses are managed by the software CS Floating License Server that is free and is installed in case floating licenses are purchased.
The number of computers using ABViewer at the same time is restricted by the number of purchased floating licenses. When the software is started, it connects to CS Floating License Server and gets a license. The number of the available licenses at the server is decreased. After the program is closed, the license is returned to CS Floating License Server and It becomes available for other computers.
CS Floating License Server supports the following Microsoft Windows OSs:
Windows NT/2000/XP/Vista/7/8/10
Windows Server 2000/2003/2003 R2/2008/2008 R2/2012/2012 R2/2016
If computers in your company are connected to a single TCP/IP net and ABViewer will be used on several computers at different time, ordering a floating license will allow you saving money.
ABViewer Licenses Types Comparison
User License
Floating License
Licenses can be installed on separate computers as well as on PCs connected into one network.
Computers must be connected into a TCP/IP net. Floating licenses are especially convenient for terminal systems.
The license can be installed on a restricted number of computers.
The license can be installed on any number of computers within one TCP/IP net, the number of ABViewer copies running at the same time is restricted.
Each license can be used by a single person - the license owner.
The license can be used by all the users who have access to the TCP/IP net and floating licenses.
If you have any difficulties in choosing the version and license type, please contact us at info@cadsofttools.com and our specialists will help you to make the right choice at the most beneficial price for you.
Perpetual licenses at affordable price. One-time payment. Money back guarantee.